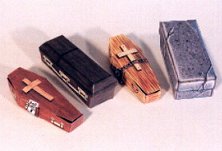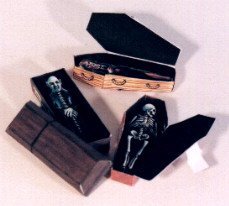 Here's a collection of three 4" coffin gift boxes and a little stone tomb. Great for
smaller gifts, or for containing your own dark little items! The coffins feature stylish
black liners and the 4.5" stone tomb will hold any of the three coffins. Below are the
instructions and all of the boxes. There are also four interesting 'occupants' that can
fill the coffins by themselves or be used to conceal whatever you place beneath them!

COFFIN GIFT BOX ASSEMBLY INSTRUCTIONS
PINE TOE-PINCHER
CHERRYWOOD TOE-PINCHER
MODERN MAHOGANY CASKET
STONE TOMB
COFFIN OCCUPANTS

These boxes also make nifty Christmas tree ornaments,
just hang 'em up with a paper-clip or string!




Return to the Toyshop (for MORE toys!)