PAPER TOYS AND DECORATIONS




Hoping to impress the Great Pumpkin?
Placing pumpkins everywhere might help. Click
the image below to print out a stylish little
3D PAPERCRAFT PUMPKIN. Instructions
are included and it's lots of fun to assemble.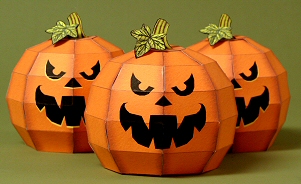 Every Halloween should include a few ghosts floating
around, so click the image below to print out an eerie
3D GHOST DECORATION. It's easy to make, and
will add a spooky bit of charm to any location.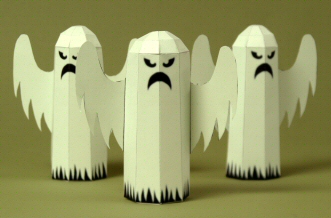 Bats are always in style this time of year, so here's
a simple 3D BAT DECORATION you can place
on a shelf or table top. This eerie little bat features a
realistic nine inch wingspan (and sharp looking fangs).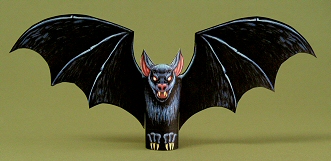 Looking for a unique way of greeting all the
frightening trick-or-treaters that arrive on your
doorstep? Give them their treats in this creepy
HAUNTED HOUSE TREAT BOX.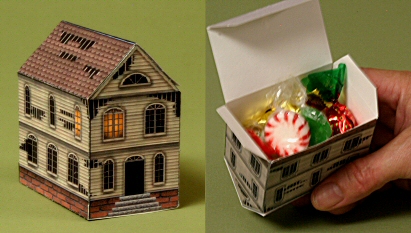 Perhaps you'd prefer a slightly more ominous method
of distributing candy. If so, then this elegant six-inch
COFFIN TREAT BOX might be just what you need.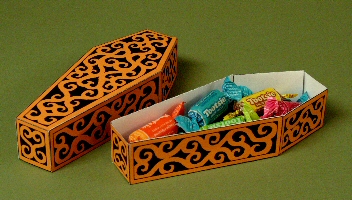 Or maybe you'd prefer a MUCH more ominous sort of thing.
This grim little HEADSTONE TREAT BOX should work
nicely. And it makes a fun little decoration as well,
so you can build your own model cemetery.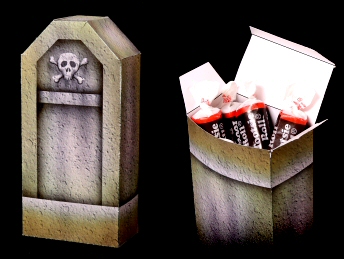 Looking for a simple yet elegant Halloween
Costume? You might try including a stylish
victorian GOLDEN MASQUERADE MASK.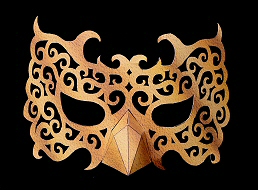 Or perhaps your taste runs more towards a
classic SILVER MASQUERADE MASK.
Fear not. Those are available here as well.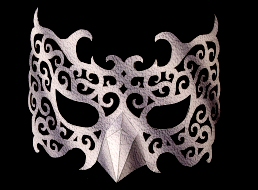 Of course, your costume might require a
RED AND BLACK MASQUERADE MASK
to complete that devilish look.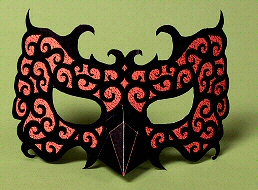 A PURPLE MASQUERADE MASK might add
a nice mysterious element to most any costume.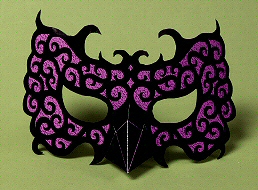 If your costume has to do with nature or
Wiccan ceremonies, you might include this
GREEN MASQUERADE MASK.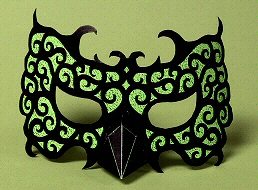 No costume? No Problem! Just slap a bat
on your face and go have a good time!
This BAT MASK is quick and easy to
make, and the file includes three sizes.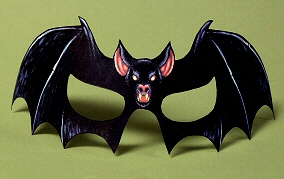 Here's a PUMPKIN MAN SHELF SENTRY to guard
your domain. These are quick and easy to assemble,
so they make great party favors. Includes a blank
pumpkin head so you can be creative.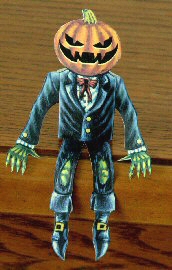 We wouldn't want to leave our pumpkin man sitting there
all by himself, so here's a SKELETON SHELF SENTRY
to keep him company. Horrifyingly authentic in every
detail and yet, somehow... kinda cute.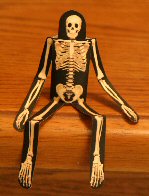 Here's a BLACK CAT SHELF SENTRY to
join the pumpkin man and his skeletal friend.
After all, no Halloween is complete without
a few black cats prowling around.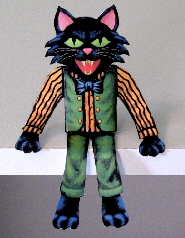 It's always good to have a jack-o-lantern handy to scare
away evil spirits. Fortunately, even a flat cut-out one
will suffice. Click the image below to print out a
colorful JACK-O-LANTERN DECORATION.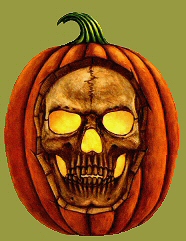 And it just isn't Halloween if you haven't
followed the time honored tradition of hanging
a few skeletons around the place. So here's a nice
realistic two foot tall SKELETON DECORATION
to display wherever you think he'll look best.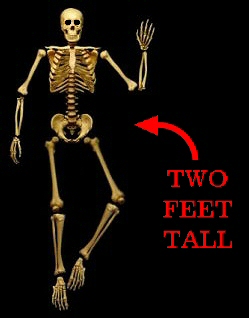 It's always fun to tape BAT DECORATIONS to the doors
and windows. Click the image below for a whole flock of
the ghastly creatures. You can make 12 two-sided bats
(for windows) or 24 one-sided bats (for walls and doors).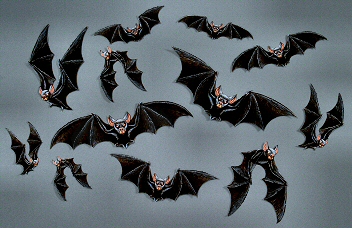 Nothing makes a room creepier than having a few
spiders here and there. Click the image below
for some horrifying poisonous SPIDERS. They're
easy to make, and can be placed most anywhere.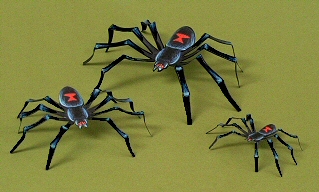 Remember that eerie vampire's shadow in the 1922 film
Nosferatu? Here's a VAMPIRE SHADOW CASTER so you can
throw that same horrifying shadow onto any wall you choose.
(This also makes a stylish tabletop decoration in the daytime.)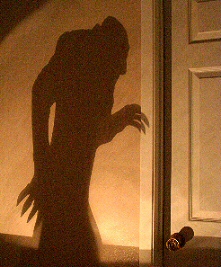 If you're expecting visitors, it might be wise to hang
a few ROOM SIGNS so everyone can find the right
rooms to enter (and avoid entering the wrong ones).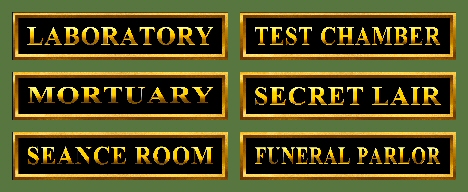 Perhaps you have a few chambers that weren't included
in the first set of room signs. ROOM SIGNS Set 2 might
be just what you need to take care of the situation.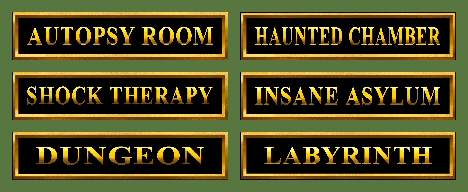 If you should happen to have even more mysterious
rooms to label than those we've previously addressed,
then perhaps ROOM SIGNS Set 3 will interest you.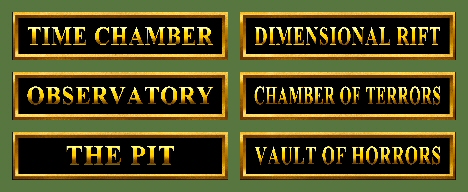 Halloween is, of course, a time to be very cautious.
So here's a rather unique SECURITY SIGN to
cut out and display in any door or window.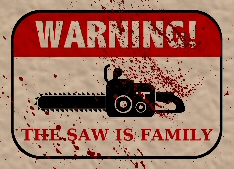 Click the image below for a spooky SKULL PUZZLE
to cut apart and have fun assembling. It's a pleasant
relaxing way of spending the time while waiting for
Midnight (or for the arrival of trick-or-treaters).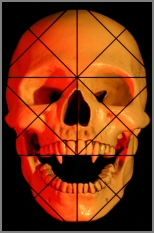 While we're at it, there's no better way to show that
grouchy old Corpse Dicer you're not afraid of him
than by assembling this CORPSE DICER PUZZLE
(because Corpse Dicers are afraid of clever people).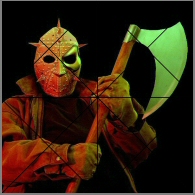 Click below for a hideous VAMPIRE PUZZLE. Of course,
building this puzzle may summon the vampire, but as
long as you finish the puzzle before he arrives,
everything should turn out OK.





Click the image below for a set of three FLIP STICKS.
The creatures will seem to become animated when you
spin them. Very easy to assemble and they create
an oddly mesmerizing little optical illuson.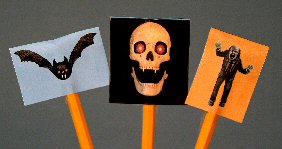 There's a certain vampire who drops by RavensBlight
most every Halloween. Click the image below for a
micro-monster version of Jonathan Frid's immortal
BARNABAS COLLINS to add to your collection.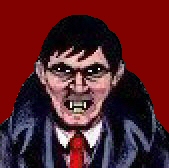 All material (c) 2018 by Ray O'Bannon, all rights reserved.